THE BLUE MOON HEMP STRESS-FREE GUARANTEE
30 Day Risk-Free Trial
Whether you're practicing the Wim Hof Method or trying a new wellness product, it's always a good idea to test the waters before diving in. Our 30 day risk-free trial is available to all first-time Blue moon Hemp customers.
How our 30 day CBD risk-free trial works
Place an order

Buy any BlueMoon Hemp product, and we'll ship it out to you right away. Our 30 day risk-free trial is available to every first-time buyer.

Try for 30 days

Start using your product. Our Customer Happiness Team is here to give you all the guidance you need.

Option to return

If you are unsatisfied with our product for any reason within those 30 days, please reach out to us via phone, email, or chat to initiate the return.
What our customers are saying
Peter K.
Not all supplements work for everyone, so allowing a trial period is a good business practice. I contacted Blue Moon to inquire about taking advantage of the trial period. I was pleasantly surprised at the ease with which they honored the request. They simply confirmed my information then sent me a prepaid shipping label. I gave Blue Moon five stars for honoring their promise to refund the cost if it didn't work. A rare practice these days!
Nathalia S.
I did some research on alternative treatments and came across Blue Moon Hemp. I was skeptical at first but figured I had nothing left to lose. I did the 30 day trial and am so glad I did! After the first week, I already noticed a huge improvement.
Carlos A.
High-quality and effective without any apparent side-effects. Overall efficacy is apparent as is the quality of the product and accompanying literature information. Facilitates peaceful and restful sleep while still allowing me to wake on time and accomplish all I need to the following day. I started with the 30-day trial and now this is the only CBD I use.
Sofia M.
I love my Oil Tincture. It tastes great and seems to kick in faster than the gel caps I was using form another company. I have waited to join the subscription feature until I knew if I liked the product and the dosage. I love it, and I'm sold!!!
Charlotte P.
I've been using Blue Moon Hemp CBD for about 3 weeks. I like the company, as well as the product. The packaging is attractive and substantial, there's a 30-day return policy (which I did not use), the on-line chat line is rapid and helpful, and you can talk to a real person, if needed. I feel better than I have in a long time.
Betty M.
I purchased the 250mg oil mainly because my husband and dog were having some issues. I decided to join him in taking it so he would actually take it. I had no real expectations but I really really was surprised! Having the 30 day trail option was a deal breaker.
Frequently asked questions
Why do I need a 30 day trial?
We're all different and it's important to test the waters with any new product.
The 30-day trial will give you the chance to try a Blue Moon Hemp product and work towards your desired results, without a commitment.
Does the guarantee apply to multiple products?
The 30-day trial is valid for one product only.
If you're interested in multiple products, we recommend starting with one and making sure you're achieving your desired results ahead of ordering multiple products. If you do choose to order multiple products, only one product will be eligible for a refund at the end of your trial period.
* Offer is not valid for "kits" or bundled products.
Are there any terms and conditions to the risk-free trial?
Yes, just a few!
1. Valid for first-time customers only.
2. Valid for one product only.
3. Any abuse of this offer, as determined by Blue Moon Hemp, may result in the rescission of the guarantee.
How do I return my order?
To make a return during your 30-day trial, send an email to support@bluemoonhemp.com.
A customer experience representative will reach out to you within 1 to 2 business days with instructions on how to proceed with the return. Once the return process is complete, a full refund will made to your original form of payment.
Refunds may take 5 to 7 business days to post to your bank or credit card.
What if I'm still not sure after 30-days?
Our Customer Happiness Team is here to help! Reach out to us and we'll find a solution 🙂
That's what we're here for!
Shop our featured products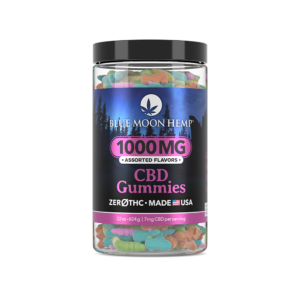 Size/Volume:
22 OZ
Total CBD:
1000 mg
CBD/Serving:
7mg
Quantity:
140 pieces
$

54.95