Embark on an epic journey with our NEW mind-blowing 2g Live Resin disposable blends!
We've worked our magic to create a live resin line that captures every ounce of deliciousness from your favorite cannabinoid profiles.
We start with organically-grown hemp and use only the best ingredients to formulate Premium CBD & Delta products that actually work.
We only use the highest quality ingredients and believe in radical transparency. You'll always know what you're taking with clear labeling and honest practices.
Made in the USA
Max potency
99.6% Pure CBD Isolate
Quality first
Thoroughly tested
Natural ingredients
TruBlu Bluefin Tuna - CBD Cat Tincture
I was having problems with our male cat who started spraying in our home when we brought in a stray male cat. I decided to give the CBD a go to see if it would calm him down. I mix it with a little wet food and he gobbles it up every morning. He is about 14 years old and was looking his age and moving around the house slower and slower. The CBD helped as the spraying stopped, plus his fur has become thicker and shinier. He also seems to have more energy and is moving better.
Good stuff
Good stuff, arrived quickly
Berry 1000 tincure
Love the berry flavor.
Life is much more pain free, sleep better.
good for inflammation
These are 25 mg per, so you may need to take a few at a time, but they are pretty effective.
Grape Ape.
Good flavor but weak buzz. What do you offer that will provide the strongest buzz?
Perfect Sleep Aid
I take about an hour before bed and I sleep like a baby! Best thing ever.
Love It !
Once again I am very pleased with both the taste and the longevity of the carts. Keep it up and add more flavors!
Outstanding
Truly league of own. Excellent customer service, insanely fast shipping . bravo well done blue 💙
Great experience
I love all Blue Moon products, they have the most effective gummies and now I have tried the resin capes and they are great also
Jessica Hough
First, I have to say thank you for the excellent pooch product. My old boy is a 15 yr old pittie and obviously has some issues related to age. The Blue Moon CBD dog treats have helped him tremendously. My mother has a miniature schnauzer with separation anxiety and she recently tried Blue Moon treats with him on our last visit with her. She loved them and ordered Buster his own treats shortly after we departed for home. She said he sleeps better ant night and isn't as anxious when she gets home from work. She even recommended it to a friend of hers for her miniature schnauzers. We're all fans!!
Second, the customer service is excellent. I had an issue with a product purchased on clearance from a local shop that was closing. Blue Moon customer service took care of it quickly without hesitation. Just all around a great experience with the product and the people; highly recommend!!
Fantastic D8 Disposables
Truly some of the tastiest and highest quality Delta-8 disposables I have tried! Would highly recommend!
Tasty and Effective!
I've been enjoying these nighttime gummies for a couple months now. They taste great, and I've seen a positive impact on the quality of my sleep.
My sleep has been enhanced taking a Gummi at bedtime, awesome! Sleeping thru the night, awakening rested and reduction in pain in the mornings.
CBD for Dogs and Cats
Blue Moon Hemp CBD is suitable for your furry friends too.
Discover CBD for pets and its beneficial properties to help support calmness and well-being for your furry friends.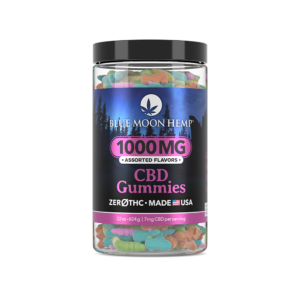 Size/Volume:
22 OZ
Total CBD:
1000 mg
CBD/Serving:
7mg
Quantity:
140 pieces
$

54.95
Wellness for Mind and Body
Sleep
CBD may help you sleep better primarily because it eases conditions related to restlessness like pain, anxiety and inflammation.*
Wellness
Your endocannabinoid system (ECS) is responsible for achieving homeostasis. CBD acts in concert with your ECS to make your body work for you.*
Focus
Small servings of CBD may make you feel more alert and clear-headed. The restful sleep you can achieve also helps to improve your focus.*
Analgesic
Ingested CBD works with receptors in your brain to help control neuropathic pain, while topical solutions can help with sore muscles and inflamed joints.*
Anxiety
CBD may help you improve many anxiety-disorder symptoms, such as acute stress and depression, by boosting signaling to serotonin receptors.*
Digestion
Your ECS plays a big role in maintaining gastrointestinal functions. CBD's anti-inflammatory and hunger-signaling properties may help sustain a healthy gut.*
CBD Products to Fit your Lifestyle
Maintain a clear mind and active lifestyle with Blue Moon CBD hemp oil! – Hemp oil extracts have traditionally been used around the globe as medicine. A large body of evidence has indicated that the benefits of CBD hemp oil may improve general wellbeing. Blue Moon Hemp maintains the biochemical equilibrium within the hemp plants to maximize the beneficial effects of its organic CBD oil.
Our unique methods allow us to extract all the beneficial components of the hemp plant.